Baron Ashbury was a Gilnean nobleman of the House of Ashbury, and was the former Baron of the region of Duskmist. He was a close and trusted friend of King Genn Greymane, as they grew up together. However, he turned against his former friend when he sided with Lords Vincent Godfrey and Walden, and was slain after the three of them took the king hostage.
He was later raised in undeath by the
Forsaken
along with Godfrey and Walden, and the three served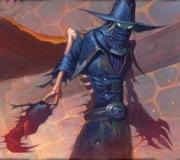 them for a time, before turning on them. He fled to
Shadowfang Keep
with them after assassinating
Sylvanas Windrunner
, where he was slain.