Barony of the Dusk Thicket



Last Lord:

House:

Location:

Eastern Range, bordering the Viscounty of Gryphon's Roost along the coastline.

Holdings:

Seat:

Status:

Active.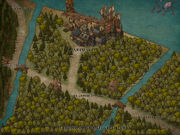 The Barony of the Dusk Thicket is a barony ruled by the House of Haven. Located within the forest of which the barony shares its name, the region is one of the few where it is found that the Old Ways are prevalent within the Range. Largely unremarkable, the land is known for growing medicinal herbs. It was combined into the Earldom of Gryphon's Roost by Adrian Gregor.
Formerly the home of the House of Darkwater, the lineage died out at Lady Mari Darkwater, ex-wife of Lord Adrian Gregor. Despite her having given Adrian a second son that he could have used to continue the line, Adrian instead opted to end the Darkwater lineage and replace it with the newer House of Haven.
Ad blocker interference detected!
Wikia is a free-to-use site that makes money from advertising. We have a modified experience for viewers using ad blockers

Wikia is not accessible if you've made further modifications. Remove the custom ad blocker rule(s) and the page will load as expected.