Doctor
Cornelius Oraius Balshaw



Race:

Human (Worgen)

Age:

68
August 11th

Nationality:

Gilnean

House:

Balshaw

Titles:

Grand Librarian of the Order of the Raven
Doctor

Affiliations:

Family:

Sirus Blackmane (Grandson)

Status:

Alive
Cornelius Oraius Balshaw is a veteran physician whose focus shifted to studies of the mind and it's understanding. With a interest in Astromancy the old man keeps himself busy and locked away for much of his time to study the stars further. After the fall of the Gilnean wall, Cornelius made his way south to Stormwind and eventually found himself locked away in a retirement home.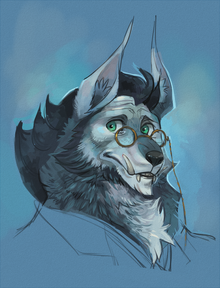 Recently however he managed to annoy Stormwind staff enough to be returned to Gilneas, finding a new home by the Ashen Coast and reconnecting with his grandson Sirus Blackmane.
Ad blocker interference detected!
Wikia is a free-to-use site that makes money from advertising. We have a modified experience for viewers using ad blockers

Wikia is not accessible if you've made further modifications. Remove the custom ad blocker rule(s) and the page will load as expected.