Lord Walden

Walden in life

Race

Human (Undead)

Gender

Male

Affiliations

Kingdom of Gilneas (Formerly)
The Forsaken (Formerly)
Independant

Title

Earl of the Wald

Status

Deceased

Relatives
Lord Walden
was a Gilnean nobleman of the
House of Walden
, and was the former lord of the region of The Wald, a region that included the
Blackwald
,
Stormglen Village
and various other townships. He was one of the nobles close to King
Genn Greymane
, and joined Lord
Godfrey
when he plotted to take him hostage following the revelation of him being afflicted by the
Curse of the Worgen
. He was slain in the kidnapping, and was resurrected by the
Forsaken
sometime sometime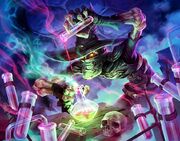 afterwards.
Along with Godfrey and Baron Ashbury, he betrayed the Forsaken, fleeing to Shadowfang Keep after assassinating Sylvanas Windrunner, where he was slain.
Ad blocker interference detected!
Wikia is a free-to-use site that makes money from advertising. We have a modified experience for viewers using ad blockers

Wikia is not accessible if you've made further modifications. Remove the custom ad blocker rule(s) and the page will load as expected.